New Book Release for India Library: Summary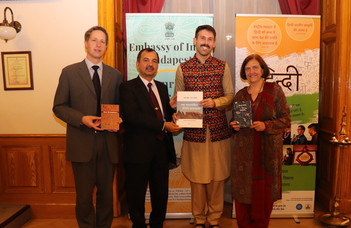 13. November 2019. 18:00 - 19:00
ELTE BTK, Kari Tanácsterem
2019. November 13. 18:00 - 19:00
ELTE BTK, Kari Tanácsterem
---
The ELTE Department of Indian Studies has presented three new volumes for the India Library series at the Faculty of Humanities on 13th of November, 2019.
An aim of these volumes is the translation of several types of Indian literatures and the publishing of India-related studies written in Hungarian as a means of connectig India's rich culture to the Hungarian readers.
The three volumes published are as follows: Manu's Code translated from Sanskrit, and Bhisham Sahni's famous novel Darkness from Hindi to Hungarian by Indologist Bernadett Judit Borbély, along with A Hungarian–Hindi Student's Thesaurus (Ek Sārgarbhit Hindī Shabdāvalī) created by Indologist Péter Sági, Assistant Lecturer at the Department of Indian Studies. All the three volumes have been published by L'Harmattan Publising House with the financial support of Indian Council for Cultural Relations and the Embassy of India in Hungary.
After lighting the oil lamps according to Indian tradition, Prof. Dr. Imre Hamar, Vice-Rector of International Relations, His Exellency Shri Kumar Tuhin, Ambassador of India and Dr. Gábor Sonkoly, Dean of the Faculty of Humanities greeted the participants. Later the audience could attend a podium discussion on the new volumes.
The event was closed with a short reception offering Indian buffet dinner and music.
This occasion was not only the celebration of the successful publishing of these volumes, but also a sign of a much closer co-operation between ELTE and the Embassy of India in Hungary.
An "India Day" in April 2020 at the Faculty of Humanities and the Department of Indian Studies is already being organized. This will bring India's culture closer to those who are interested in her rich and unique heritage and its representation at our university.
Képek a könyvbemutatóról
Képek a könyvbemutatóról