PhD | पी-एच॰डी॰
PhD in Indian Studies | पी-एच॰डी॰ भारत अध्ययन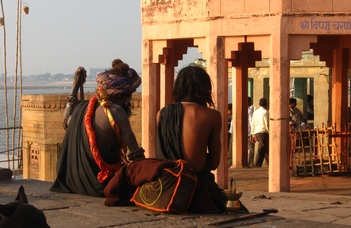 The Indian Studies Doctoral Programme was established in the framework of the Doctoral School of Linguistics in December 2018 by the Senate of the Eötvös Loránd University and will be available in Hungarian as well as English language from September 2019 onwards for students who, after completing their master course in Indology, intend to do independent research and prepare a dissertation in a topic related to either ancient or contemporary India and South Asia, with a special focus on Indian languages and their philology. Earning a PhD degree is a necessary prerequisite for pursuing an academic career as an Indologist.
The doctoral programme consists of a two-year long educational and research module of 120 credits (including obligatory subjects on textual criticism, philology and Indo-European and Indo-Aryan descriptive and historical linguistics, and tutorial seminars) and a two-year long research and dissertation module, during which the student acquires further 120 credits through tutorial seminars, publications, conference presentations and other activities such as conference organization or field practice. Additional 40 credits can be accrued through teaching activity within the framework of the Indology BA and MA programmes at the Department of Indian Studies.
Course framework. For the regulations concerning the dissertation and the PhD programme in general, visit the websites of the Eötvös Loránd University the Faculty of Humanities and the Doctoral School of Languages here and also here.